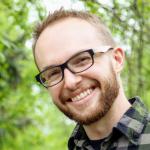 About Me
How many years have you been doing your job? How many years at Riffenburgh?:
I am in my 6th year in education and my 3rd year at Riffenburgh.
What I love most about teaching is…:
I love watching kids take risks and surprise themselves with their success. The learning process is so fun to be a part of. Kids are creative and full of life. I really enjoy hearing them talk about their work and thinking process.
My favorite children's book or author is...:
I love Eric Carle. Each story is a unique experience with lovable characters and a beautiful collage of nature and fun learning opportunities. Also, my daughter, Thea, reminds me of the Very Hungry Caterpillar, because she is always hungry and eats almost every food she can get her hands on!
My hometown is...:
I am a Fort Collins native and have thoroughly enjoyed my time growing up in this city and in Poudre School District both as a student and as a teacher.
My Interests & Hobbies:
I love spending time outdoors, hiking, camping, and fishing, with my wife, Rheo, one-year-old daughter, Thea, and dog, Arlo, and always have some project going on in my house. My wife Rheo is a K-1 teacher at Stove Prairie Elementary and we both immensely love what we do. I'm proud to be a Roadrunner!
Courses Taught:
Art for everyone! I teach art through a Teaching for Artistic Behavior (TAB) approach. This involves focusing on the way we think as artists and how to utilize those skills to explore the world around us. Students often have a lot of choice in the materials they use to create art, how they use them, and what they create. This creates an experience for learning focused on their own unique ideas, observations, and expressions through their art.
About My Classroom:
I love art because it helps show us more about who we are, helps us relate to the world around us, and provides a fun opportunity to express ourselves. I had many wonderful teachers and mentors in my time as a student, and hope to offer my own students at Riffenburgh wonderful learning experiences as well. I consider art an important part of a child's educational experience as both visual literacy and expressive outlet.