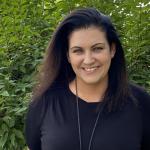 About Me
How many years have you been doing your job? How many years at Riffenburgh?:
I am a Licensed School Counselor and a Licensed Professional Counselor. This is my 3rd year as a School Counselor at Riffenburgh. I have also worked in private practice settings, community mental health and have been working with kids in a school or counseling setting since 2007.
What I love most about teaching is…:
The kids! I love working with kids and helping them sort through their feelings.
My favorite children's book or author is...:
My favorite children's book is, "A Wish for Wings That Work" by Berkeley Breathed.
My hometown is...:
I was raised all over Colorado!
My Interests & Hobbies include...:
I love spending time with my dogs, traveling, going to the movies, and almost anything art related.