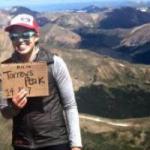 About Me
How many years have you been doing your job? How many years at Riffenburgh?:
This is my eigth year at Riffenburgh and my ninth year teaching. If you can believe it, I taught high school before coming here :)
What I love most about teaching is…:
I love seeing the kids grow throughout the years, it has been incredibly rewarding to work with kids every year and see them as they learn and master new skills.
My favorite children's book or author is...:
Roald Dahl
My hometown is...:
Ellensburg, Washington
My Interests & Hobbies include...:
In my spare time (wait, what's that) I enjoy spending time with friends, watching sports and spending time in the great outdoors. I swam competitively for 14 years and since graduating from college I have channeled that interest into competing in triathlons. On any given weekend don't be suprised to see my running or biking through town! I also have (in my opinion) the cutest dog on the face of the earth and I love spending time with her.
About My Classroom:
PE classes meet for 45 minutes for all grade levels. We spend time learning about fitness as well as developing different skills.
We will work on a variety of different skills throughout the year, but I like to include a "teamwork" theme in everything that we do. I think that being able to work well with others is one of the most important skills they can learn and I focus on this as much as I can. Watching the kids work together to solve problems is so much fun!
Please make sure that your child has proper PE shoes on their PE day, sandals during warm months and snow boots during the winter are not conducive to running around and being active!